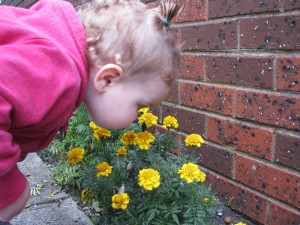 Little Miss B has recently become fascinated with the flowers that are growing in our garden. Two of her favourites are marigolds and fuchsias. She enjoys looking at their bright colours, touching their petals and of course picking them! She is certainly not the only child who loves to do this. Flowers are very appealing to children and there are endless varieties that are great to include in the garden for the kids.
Some popular flowers that appeal to children include:
Sunflowers
– These flowers are one of the most popular with children. They can measure their own height against the stems, hold competitions to see who can grow the tallest and feed the seeds to the birds. They can also dry the flower heads, collect the seeds and replant them the following year.
Snapdragons
– Children love playing with snapdragons, squeezing the flower and making the 'jaw' snap open. These flowers are easy to grow and often self-seed.
Geraniums and Pelargoniums
– These flowers come in a variety of colours and have very fragrant leaves that children enjoy picking. These plants are easy to grow and are very drought tolerant.
Paper daisies
– Children find the texture of these daisy-like flowers fascinating. They are easy to cut and dry and are great for use in flower craft activities. These flowers are extremely drought tolerant and easy to grow.
Marigolds
– These fast growing flowers are vibrant in colour and feel soft to touch. They are also great companion plants to help keep bugs at bay in the vegie patch.
There are so many great flowers available and this list is by no means exhaustive. What flowers do your kids love? Please add them to the comments section below and happy gardening!