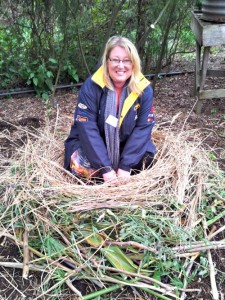 Today's guest post is from Narelle Debenham, founder and director of Natured kids, a weekly outdoor playgroup for families and young children on the Mornington Peninsula. Narelle, registered teacher and mother of three boys, aims to have a positive impact on children's lives, while deepening their connection with and understanding of our natural environment. For a free checklist of outdoor activities to inspire nature play with your children visit Natured Kids.
St. Patrick's Day marks the time of year when sweet pea seeds like to be planted in our gardens. Forty children from the Natured Kids outdoor playgroup planted these sweet peas to make a living, scented, sweet pea tee pee to play in at the
Groundswell Community Garden
in Frankston.
To make your own tee pee with the kids in your garden you will need:
Make a tee pee structure with the stakes, tying them together at the top.
Cover three sides of the tee pee with chicken wire.
Plant the seeds evenly around the base of the tee pee.
Water the seeds regularly and watch them grow – easy!
Enjoy!