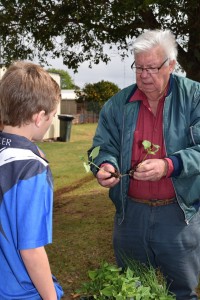 At 77 schools and kindergartens across the Lockyer Valley, Toowoomba and Somerset, Queensland, students are finishing the day with dirt under their fingernails – and their parents and teachers love it.
It's all part of a gardening program designed to educate children about the origins of their food, led singlehandedly by Junior Landcare Lockyer, Toowoomba and Somerset coordinator Greg Grimes. The "Healthy Eating, Healthy Children, Healthy Lifestyle Program" is all about making a difference and encouraging children to eat healthy and fresh food from their own gardens.
Now 73, Mr Grimes was a teacher for over 50 years. With a lifelong affinity for the environment, it's only natural for him to now to volunteer his time and skills to educate children from the garden.
"My mission is to train the children now to protect the environment for future generations," he said. "It's very rewarding to see the change occur. I was in the garden one day holding a lettuce and a little girl came up to me and asked me what it was. She didn't have lettuce at home; that was her experience."
"Getting the children to experience the results of their work, to be able to eat from the garden, and then come to me and say since you've taught me this I've now got a garden at home – that's the most rewarding part."
Mr Grimes said the children are excited to take ownership of the gardens from the outset.
"They help build the garden, they work in lunch time and after school and they harvest the vegetables. We're even seeing some of the tuckshops use the produce, and students are enjoying their lunch from the gardens at school," he said.
When Mr Grimes started the program he visited 12 schools in the first year and 25 schools in the second year. Now in its third year, in 2015 he is visiting 77 schools and kindergartens, and there is a waiting list.
The program has attracted major sponsorship and support from local business Pohlmans Nursery, which has provided all the seedlings for the program – including an incredible 25,000 seedlings planted this year. It's a commitment Pohlmans' Chief Operating Officer Ross Cronin said they are proud to make.
"We've been encouraging families to discover the delights of gardening for a few generations now," said Mr Cronin. "We're proud to be part of a program that's making a positive change in how children and their families eat, and helping children realise the benefits of fresh, tasty, healthy food."
Run on all his own time, with the help of his wife and an occasional grant to construct gardens in schools, Mr Grimes said his program has almost outgrown what he can provide. Nevertheless, he has big plans for the future, including expanding his nursery and adding other educational elements to his program, such as creating outdoor classrooms so students can learn in a different setting.
For local businesses interested in being involved in helping to grow students' future, just $1,500 is enough to provide all the tools, equipment and materials needed to create a full school garden.
For more information about how you can support Mr Grimes' Junior Landcare program, please contact Greg on 0413 330 316.